Written by IEEE | January 10, 2018
The modern manicure experience is far from low-tech. As styles and lacquer formulas evolve, so do the tools, tech and gear used to create something that's long-lasting and aesthetically pleasing. O'2 Nails offered a glimpse into the future of nail design at CES 2018, with their fast, user-friendly nail printer.
The required prep for using a nail printer is similar to that of a gel manicure. Nail stylists buff and file the nail, apply a mask to prevent color from being applied to the skin, add a clear top coat, and paint on a background color. Consumers can pick from several patterns and designs, or upload their own JPG file for something more personal.
In less than 2 minutes, the design is transferred, and like a gel manicure, an LED light is used to dry the design and polish and the mask is removed.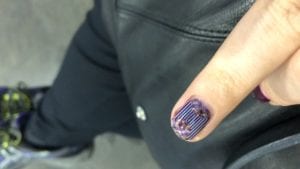 The printers are small in size, require minimal cleaning, and can help improve efficiency and attention to detail in high-volume salons. In addition to a portfolio of different printers (including a mobile one that boasts wireless support and 35-second printing), O'2 Nails also has an app that enables consumers to pre-select their styles based on previously used designs or new ones, and then have the experience waiting for them at the salon.