Written by IEEE | December 16, 2021 | Updated: June 27, 2022
The end of a calendar year is a time to reflect on the year that was. It's also a time to think about the years to come. 
Technology is ushering in a new, and brighter future. And so, as we look back at the previous year, we wanted to highlight stories that could help inspire the next generation of technology professionals. 
We've curated a selection of our favorite Transmitter articles from 2021, stories of how inspiring technologies are impacting our lives, and tips to inspire the next generation of technologists.
Three Stories of Inspiring Technology
With IEEE Senior Member Ming Liu, the story of a robotic wheelchair making a big impact: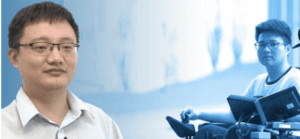 How Robots Are Improving the Lives of People with Disabilities
From IEEE Member Jay Shah, a look at how advanced artificial intelligence yields new insights in health care:
Three Ways Deep Learning Yields New Insights for Medical Researchers
Responding to large scale natural disasters is complex and dangerous. Here's how drones, satellites and robots help first responders get better situational awareness:
Floods, Wildfires and Other Natural Disasters: How Emerging Tech Keeps People Safe
Our Favorite Ways to Inspire Technologists
In this story, five women in STEM tell us why more women should enter the field. Hint: they want to make an impact: 
Women in STEM Share Why Girls Should Become Technologists
Mentors are critical to the success of young professionals. Here's the story of mentors and mentees sharing their experiences: 
The Role of Diverse Mentorship in Education Equity
Behind every breakthrough is a person that was inspired to become an engineer. Here, six engineers describe where that spark came from: engineering inspiration:
 How I Knew I Wanted to Be an Engineer
A single year can be a lifetime in the world of technology. Here's advice from several IEEE Impact Creators on how they stay relevant in their field: 
Future Proof Careers: Advice on Career Management from IEEE Members
Here's to a new year. 2022 is sure to bring new opportunities to inspire others, or to push the boundaries of technology to have even bigger impacts.