March 21, 2022 | Updated: June 17, 2022
Continuing education and lifelong learning are cornerstones of all technology professions. As a leader in technical and engineering education, IEEE offers courses and training to match the breadth and depth of the tech world — for a diverse array of interests at all levels. 
That educational excellence is about to take center stage.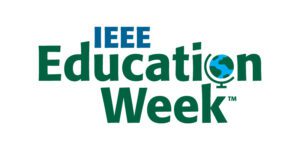 From 4-8 April, as part of the inaugural IEEE Education Week, more than 60 IEEE-affiliated organizations will host events for students, educators and technical professionals on their journey of lifelong learning. The events, which include webinars, round tables, blogs, podcasts, in-person activities and more, are designed to provide expert instruction on some of the hottest topics in science and technology. 
"IEEE members and volunteers make a difference every day through education," said Kathy Land, 2021 IEEE President. "From providing pre-university STEM education, to university activities, to continuing professional education, IEEE Education Week is a celebration of the many ways we advance technology for humanity through our educational efforts."
Need even more reasons to participate? Here are a few:
Advance Your Career With New Technical Skills 
Tech jobs are in demand, with hundreds of thousands of unfilled positions — an estimated 2.5 million in cybersecurity alone, according to recent studies. 
Employers are looking for employees with the right set of skills for today, and for their future plans. For those looking for their next move, now might be the perfect time to get their foot in the door. 
"As the private sector ramps up hiring, many are looking for candidates who have skills in emerging technologies," said IEEE Senior member Babak Beheshti, chair of the IEEE Educational Activities Board's (EAB) Continuing Education Committee. "IEEE's educational offerings directly address this increasing need."
Build the Next Generation of Talent
Building a network is essential to building a career, but it's also key to building a talent pipeline. Continuing education is an excellent way to engage with colleagues that share your interests and develop contacts for the global economy.
IEEE Education Week offers opportunities to inspire the next generation of STEM professionals and create a more inclusive tech workforce in the future.
"We know that there is a lack of qualified, diverse candidates in STEM professions," said Lorena Garcia, IEEE Senior Member and IEEE EAB PreUniversity Education Coordinating Committee Chair. "The pre-university STEM education efforts of IEEE members and volunteers are designed to ensure that our future STEM workforce reflects all of us." 
Make Up for Time Lost in the Pandemic
For many engineers and technologists, the pandemic had big impacts, professionally. Some undergraduates in STEM fields may have missed out on internship opportunities. Early-career professionals may have missed out on vital face-to-face time with senior management. And working technologists and engineers, in many cases, found themselves busier than ever. Now is the time for them to find the training and educational opportunities they need. More than 60 IEEE-affiliated groups are taking part in Education Week, meaning there's ample opportunity to find what you're looking for. 
"For both young technical professionals and those who are more established in their fields, taking the time to learn new skills in this age of hybrid and remote working can help their careers flourish," said IEEE Senior Member Stephen Phillips, 2022 vice president of IEEE EAB. 
Learn More:
Many people join IEEE to stay current in their profession through education. High-quality educational experiences are one of the many resources IEEE provides as the professional home for technologists around the globe. Join IEEE President Ray Liu during IEEE Education Week to discover why lifelong learning and continuing education are an essential part of what makes IEEE the professional home for hundreds of thousands of IEEE members.