Written by IEEE | September 5, 2023 | Updated: September 12, 2023
The world's population is growing older, and it's doing so rapidly.

Back in 1980, Sweden had the highest percentage of older people in the world at 16 percent. Today, Japan leads the pack with nearly 30 percent. By 2050, 40 percent of the population of China is expected to be older than 65, according to the United Nations.
Longer life expectancies have been brought on by rising living standards, advances in medicine and innovations in health technology. But with those advances comes a looming challenge: how to care for a rising number of older people.
Care robots may be part of the answer. With a rising number of older people relative to the working age population, care robots may ease labor shortages in nursing homes, or help older people maintain independence.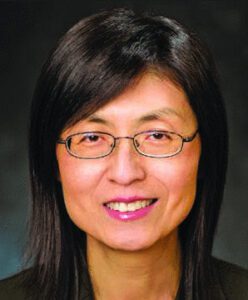 IEEE Senior Member Yi Guo, editor in chief of IEEE Robotics and Automation Magazine, has worked with colleagues on an integrated robot and wearable sensor system to support aging in place for older adults. In Guo's editor's note in a recent issue, she explained how her group tested the system at a New York City senior center where older adults go for exercise and physical activities.
Among their findings: older people who say that they enjoy new technology also tend to have positive views on aging.
Can you explain how robotics innovations can specifically assist the elderly in their daily lives and improve their overall care?
Robotics innovation can provide technology and new devices that assist the elderly to exercise, do house chores, remind them to take medicines, provide companion and emotional support, monitor their health, record their physical and emotional data with assistive devices, communicate with doctors and caregivers, etc. This could happen in their homes or in assisted living facilities. The main research areas in robotics include socially assistive robotics, rehabilitation robotics and wearable sensors and robotics.
You recently wrote an editorial in IEEE Robotics & Automation Magazine in which you discussed that technophilia — a love for technology — was a significant predictor of a positive self-perception of aging. Can you elaborate?
One of our research objectives was to evaluate the older adults' attitude toward robotic technology. The survey data we collected from the participants indicated that high ratings of technophilia emerged as a significant predictor of positive self-perceptions of aging. This means that older adults who like new technological gadgets or think that technology makes life easier feel better towards aging, and they are more likely to report that "as I get older, things are better than I thought they would be", or "I am as happy or happier now as I was when I was younger."
How might that finding impact future research?
We think that future studies should continue to explore the relationship between self-perceptions of aging and technology usage as well as technology attitudes. It's not only that better integration between design and user input may increase older adults' positive attitudes and receptiveness of technology, but also interventions can be developed to increase older adults' positive self-perceptions of aging. Community-based programs can be developed to incorporate positive engagement with technology. Future research should also explore older adults' needs in the technology they choose to use at home.
How do you envision the role of robotics evolving in the future to further enhance the quality of life for older adults?
With advances in robotics technology in both hardware and software, I think that robots can be companions in the homes of older adults to provide support as needed. The quality of life can be enhanced for older adults through improving their autonomy and independence, encouraging healthy lifestyles, connecting with friends and community, and calling for help when needed, all of which can be enabled with advanced robotics technology.
On the other hand, researchers and technology developers should be mindful of the downside or misuse of technology, and be responsible in developing new technologies that respect users and gain their trust.

Were there any unexpected findings or insights from your research that challenged common stereotypes or perceptions about older adults' engagement with technology?
A prominent stereotype about aging focuses on the perceived incompetence of older adults to engage with various forms of technology. As we used a less-expensive lab robot with self-assembled sensors in our research project, we were not sure whether the participants would enjoy being around the robot and what they might think about our early-stage technology at the beginning.
To our surprise, the participants were very supportive and cooperative, and wanted to volunteer their time to contribute to technology development. They were also curious about what robots can do and eager to learn more about how technology could help them.
I think if developed appropriately with user needs and experience in mind, we can gain acceptance and trust from older adults in using robotic technology.
Learn more: The IEEE Robotics and Automation Society recently published a Special Issue on Homecare Robots, providing readers with an overview of the state of the art in robot-assisted home healthcare.