Attention Makers
CATEGORY: ACCESSIBILITY
Wirelessly and manually controllable switchboard
MAKERS: LAGARI COUNTRY: India
This switchboard enables especially old fashioned homes to transform into new generation wireless switching without compromising their old switching technology.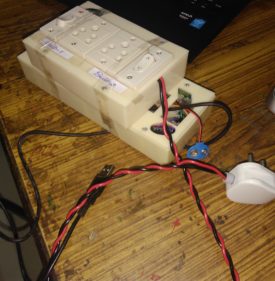 The Purpose
In current situation if any Indian needs to make his old fashioned homes to new wireless controlled manner then he need to buy all kinds of wireless equipments and this is not possible in middle class Indians. So this switchboard enables the user to change into wireless technology without buying new gadgets and using the old gadgets as well. as everything is controlled by a switch, controlling the switchboard is the easiest way to get into the world of wireless and manually controllable switch boards.
The Technology
The technology behind is normal wiring technique with microcontroller based wireless Bluetooth or wifi. Both these go hand in hand to provide this final product.
Additional Details
This smart switch board is easy to install in any kind of wired buildings. Greater user satisfaction. Enriches the potential of wireless controlling. Reaching the lower levels of society.