Attention Makers
CATEGORY: TRANSPORTATION
An Assistent Drone For Fireman
MAKERS: Samuel , Ricardo COUNTRY: Brazil
The main objective of the project is build a drone, from the structural part to the digital control system, to help firefighters take float faster to rescue drowning people.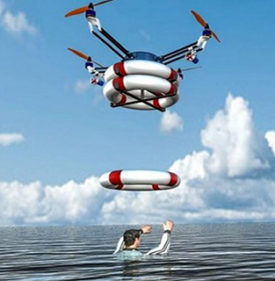 The Purpose
In the year 2016 on the coast of Santa Catarina, 290 rescues were made during Carnival, only. Also, to carry out the rescue of these people, the firemen need to arrive very fast to the place, which does not happen most of the time. The design of an auxiliary drone would provide the firefighter more safety, practicality, reliability and speed in sending the first aid float and, consequently, would reduce the number of drowning deaths in the state.
The Technology
The technology of our auxiliary drone will be all development by ourselves. Another factor, in the coast of Santa Catarina doesn't has no similar technology as was in the uploaded video, which will bring more development in our region.
Additional Details
We participated an inovation event in our state (Santa Catarina) and we were awarded with second place.