Attention Makers
CATEGORY: ACCESSIBILITY
WAN Optimization
MAKERS: Tahereh , Fatemeh COUNTRY: Iran (Islamic Republic of)
The ever increasing demand of WAN bandwidth pushes companies to optimize their use of the available B.W. such that more traffic can be sent over the same channel.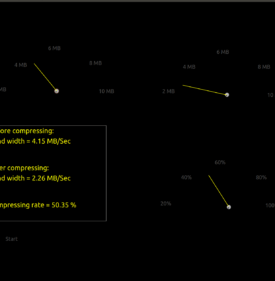 The Purpose
A connection is sometimes necessary for an organization to interact with its remotely located branches. This connection often involves utilizing the available WAN infrastructure, which undoubtedly introduces a considerable cost to mid-sized companies. To reduce this cost which is directly relational to the required bandwidth, one can make use of a wan optimizer. This device gets placed just after the edge router and shrinks the required WAN bandwidth by compressing the streamed packets. Therefore, users on the LAN side would still enjoy a higher B.W. while from the service provider?s perspective, a significant lower bandwidth is assigned to the client.
The Technology
In the first step, the commonly used compression and encryption algorithms in the networking area are analyzed to find the optimal procedure. The selected algorithm(s) must be simple enough for a RISC processor (ARM, Micro-controller) to handle, while encompasses strong compression ratio and encryption techniques. Later, a user interface will be added to the whole design cycle to display the operation of the wan optimizer, providing the user with the ability to control the device on a touch screen LCD and to graphically monitor the entire procedure.
Additional Details
In addition to packet compression, the proposed wan optimizer could apply encryption algorithms on the compressed data to increase the safety of the communication. By using two of this device ?one on each end of the connection- organizations could easily compress/decompress their data on each side without the risk of exposing any important information.