Attention Makers
CATEGORY: HEALTH & SAFETY
Health Tracker using IOT
MAKERS: Parul COUNTRY: India
An IOT based solution for healthcare by monitoring patient?s health parameters on a regular basis, send feeds to stakeholders for necessary intervention & alerts when required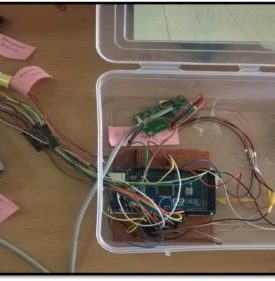 The Purpose
The problem that we are trying to address is Health care services for people of all age groups be it in cities or villages.The health care services are hard to be provided to elder people daily because doctor have to visit to do small test. Along with that in villages there are less health care services that becomes a major issue and problem as the machines or equipment are not available. All the small health issue like temperature, Blood pressure, pulse rate, Asthematic problems, Fainting due to some problem, humidity etc. can be measured with this device.
The Technology
? Compact solution based on IoT Technology. ? Health Parameters observed by the sensors stored on cloud. Allows access, analysis of the past records of a patient's health. ? Relatives and doctor keep a continuous check on the health of a patient through the data stored on the cloud via mobile app remotely ? Alert generation in case of emergency ? Arduino Mega as a development board with following sensors and modules. ? DS18b20 Temperature Sensor for measuring body temperature ? Sunrom Blood Pressure module ? DHT22 sensor for humidity measurement ? Pulse Sensor ? BMP180 pressure sensor for measuring atmospheric pressure ? Accelerometer Sensor. ? For Internet connectivity GSM module (SIM 900a). ? ?THINGSPEAK? cloud server is used for storing sensor data
Additional Details
?Basic body parameters like Body temperature, blood pressure, pulse rate, fall detection, humidity, and atmospheric pressure can be calculated and the data can be uploaded to the cloud by providing the internet connection via a SIM card enabled in GSM module. ? The data uploaded on the cloud can be seen through the mobile application. The system gives real time monitoring of the patients and the doctors as well as relatives can be automatically informed in case of any emergency.