Attention Makers
CATEGORY: HEALTH & SAFETY
Automatic DIM and BRIGHT system for vehicle.
MAKERS: Ajith COUNTRY: India
In this project vehicle light turn DIM & BRIGHT automatically when a vehicle comes from opp. side rather than manual switching.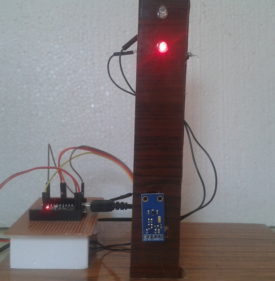 The Purpose
To avoid accident in road during night. Many people don't dim their vehicle light when vehicle comes from opp. side. To avoid that manual switching should be implemented.
The Technology
In this a light sensor is used which detect the vehicle coming from opp. side and signal is input to a micro controller which switches the light.
Additional Details
This is A Prototype made wit normal LED. Currently working on it to have high intensity light which is normally used in vehicle..