Attention Makers
CATEGORY: ACCESSIBILITY
Air Mouse
MAKERS: JOY COUNTRY: India
We can control the cursor of the mouse by just moving our hand freely in air and clicking right desired button.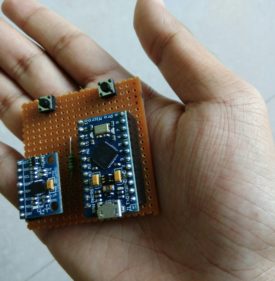 The Purpose
The optical mouse which we use requires mousepad why which after long use due to friction the mouse stops working. But as this mouse doesn't require any type of mouse pad therefore it can be used for long. For using this mouse we don't require to find any smooth base for controlling the cursor. Even it will raise interest on one towards technology.
The Technology
In this project Arduino pro micro is used as Microcontroller and MPU-6050 sensor is used as Accelometer and gyroscope module.
Additional Details
The mouse is wired. So my future goal on this project is to make it wireless and also to increase its range so that it can be widely used in different types of fields.