Attention Makers
CATEGORY: OTHER
The Martian Builder
MAKERS: Ali , Wael , Abdelfateh COUNTRY: Tunisia
The Martian Builder robot is a Heavy equipment that, specially designed for executing many construction tasks.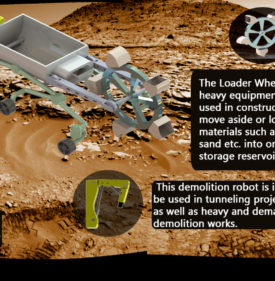 The Purpose
In 150 - 200 years human beings will establish a colony on the planet Mars. So, How can we build on Mars?
The Technology
The robot has six wheels, each with its own individual motor. It has a Loader Wheel (heavy equipment machine) that can be used in construction to move aside or load materials such as rock, sand etc. into or onto the storage reservoir(torage capacity of 7 33.6 m3). The energy is provided by The MMRTG,it is powered by 8 Pu-238 dioxide GPHS modeules. Initially, these 8 GPHS modules generatet about 2 KW thermal power ( https://youtu.be/4qkvoVRdoNg). it has also a demolition arm ,it can be used in tunneling projects, and as well as heavy and demanding demolition works.
Additional Details
This system needs no supervisor, no eye in the sky: just simple robot that regroupe many constrictor robots to modify the environment.The key inspiration we took from Martian Builder is the idea that you can do something really complicated with only one robot, without a supervisor.