Attention Makers
CATEGORY: OTHER
IOT Based Garbage Monitoring System
MAKERS: Rohit , Tushar , Manish COUNTRY: India
Trash monitorage with robo gripper is used for monitoring the level of the garbage.This system assures the cleaning of dustbins soon when the garbage level reaches its maximum.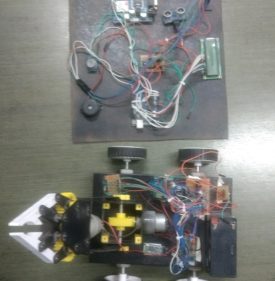 The Purpose
With an increase in population at an unprecedented rate, the scenario of cleanliness with respect to garbage management in terms of collection, sorting and finally disposal is facing an increasing number of challenges .The overflow of garbage in public areas creates the unhygienic condition in the nearby surrounding which may cause serious diseases.To avoid this and to automate the cleaning and ensure end to end efficient garbage disposal, ?TRASH MONITORAGE WITH ROBO GRIPPER? is proposed.
The Technology
Technology : IOT The Project consists of ultrasonic sensors which constantly sense and detect the level of dustbin and relay real time data to the concerned authorities. There are level indicator switches placed at different levels of dustbin.It can be seen in website.When the level reaches up to 80% of dustbin First message is sent to respective authority. After the dustbin is 80 % filled the message of dustbin as well as the exact location will be sent through GSM installed in the circuit of dustbin. At the receiver end SMS alert is obtained on phone.
Additional Details
This project is small contribute to PM Narendra Modi Jo's "Swacha Bharat Abhiyan".