Attention Makers
CATEGORY: ACCESSIBILITY
Leveraging IPv6 for Smart Cities
MAKERS: Sherin , Kiruthiga , Ganesh COUNTRY: India
Our project accent is using IPv6 and it's migration techniques for providing remote access to smart city IoT elements thereby migrating world to IPv6 ( the future).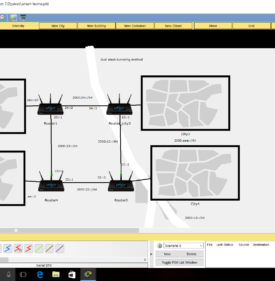 The Purpose
IoT elements is an emerging era that provides a smart solution to our day to day problems. The solution which we have suggested will help the government to develop smart city and which, inturn, provide revenue to the Internet Service Providers(ISPs) thereby increasing the revenue of the Country. The clients are also equally benefitted, where the smart city forms energy optimized environment and it reduces the excess burden as well as saves energy consumption per device. It protects the client?s home from burglar attack and also reduces their excess work.
The Technology
We are using Dual Stack and Tunneling migration techniques to connect IPv4 and IPv6 devices. In Dual Stack technique both IPv4 and IPv6 communication takes place parallelly in a device. Whereas IPv6 users communicate over IPv4 network using IPv6 tunnel. To determine the shortest path and best path we have used OSPFv3. We have used IoT and home automation in our project. By using IoT devices, it will be easy to operate the smart city and life will become comfortable and secure.
Additional Details
Applications of our project is * Smart city * Home Automation * Power generation monitoring