Attention Makers
CATEGORY: ACCESSIBILITY
Gearless Transmission of 4 shafts for cutting, grinding,buffing & drilling.
MAKERS: Harshal COUNTRY: India
This mechanism involves four machining operations like cutting, grinding, drilling & buffing using single motor which can be useful for small workshops or sometimes for household use with low maintenance.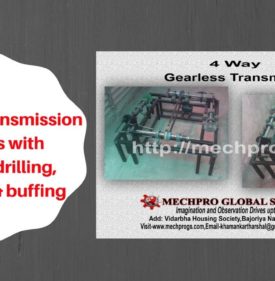 The Purpose
Gear-less transmission plays vital role for many mechanisms as it avoids use of gears & lowers the maintenance cost. Moreover, there are many individual machines or instruments for operations like cutting, grinding, drilling & buffing operation. What if we can combine these entire requirements & provide a new effective solution? That?s how the concept of this mechanism came in existence. It will be useful for small workshops & one can use it for household requirement instead of calling professionals for the work.
The Technology
All the four operations are controlled by single AC motor. The motor provides power to one pair of shafts (which are coupled through 90 degree bend rods) through the v- belt & & the other pair of shafts is rotated by using other V - belt. Thus, all the four shafts each carrying tools at the end can be used for cutting, grinding, buffing & drilling operations.
Additional Details
1) Innovative approach towards creating effective work station. 2) Simple in construction. 3) Useful for small workshops, institutes, students & household purpose.