Attention Makers
CATEGORY: SUSTAINABILITY
VAWT Vertical Axis Wind Turbine with Gear less Technology
MAKERS: Pramil COUNTRY: India
Drive the attention of peoples towards power generation through renewable sources so as to tackle the problem of power in our country which is suffering from power shortages.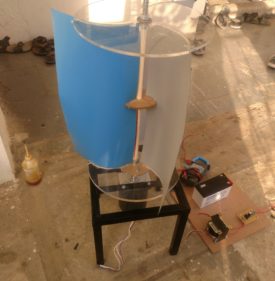 The Purpose
The objective of this project is to study and develop vertical axis wind turbine which works on low height effectively and improve power generation capacity of windmills. Our aim was to build small-scale wind turbine which run on low air velocity and can be installed on the rooftop of building and charges a 12 volt battery and runs various 12 volt appliances without invertors or run home appliance with the use of an inverter.
The Technology
To design and develop such windmills which give output at low height effectively, we are going to design vertical axis windmill which works on gearless technology. Prior to the implementation of vertical axis windmills with gearless technology, power generation from the wind is done by horizontal axis windmills with the gearbox or vertical axis with the gearbox. These were inefficient and because of large rotating gear parts they require lots of maintenance and got damaged quickly. This structure has the reluctance to catch the wind with different direction and speed. This proposed system demonstrates vertical axis windmills with gearless technology.
Additional Details
By building this project we want drive the attention of peoples towards power generation through renewable sources so as to tackle the problem of power in our country which is suffering from power shortages. With the help of such project, various sections like residential, industrial, commercial etc. can become independent from a supply of power from electricity board into certain extent. Applications Applications of vertical axis wind turbines for remote areas Residential Wind turbine Pumping water