Attention Makers
CATEGORY: EDUCATION
evive: Electronic prototyping platform for building and learning!
MAKERS: Akshat , Dhrupal , Abhishek , Pankaj COUNTRY: India
evive is the one-stop solution for learning interactive programming, building and debugging electronic circuits and robots. It makes learning and tinkering intuitively easy with fun at an affordable price!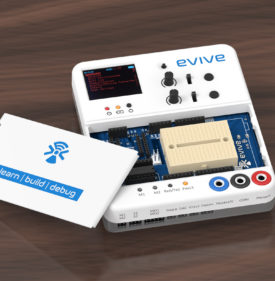 The Purpose
evive was conceptualized while building circuits for robots to participate in ABU Robocon, a Pan-Asian robotics competition. We realized a lot of time and effort was being wasted in sourcing components and building the same basic circuits repeatedly. evive's purpose is to eliminate the redundancies encountered while building circuits, provide portable debugging tools and give an intuitive interface for kids to learn.
The Technology
evive has an Arduino MEGA at its heart. The onboard LCD screen offers a novel way to interact with your hardware using it's menu-based visual interface that removes the need to reprogram the Arduino frequently, by allowing the user to choose what code is running in each loop through the menu. With a unique power management circuit, evive can be powered simultaneously from multiple sources, smartly balancing supplies to charge its battery. It offers highly accurate voltage (3mV) and current (3mA) sensing in a range of +-30V and +-3A respectively. It is IoT ready for connecting things to the world.
Additional Details
Features: 1. Hardware interaction with tactile and slide switches, joystick and potentiometers 2. Multiple output power rails with controllable voltage levels 3. Two data acquisition channels 4. Digital to Analog converter 5. Plug and Play Hardware Interface for servos, motors and motor drives 6. Real time clock to maintain timestamps for data logging 7. IoT enabled with WiFi, Bluetooth and XBEE connectivity 8. Multi-modal feedback to the user through sound, sight and touch 9. MagicLid allows compatibility with shield stacks 10. Robust power circuits protect against overvoltage, reverse polarity and overcurrents. 11. Packaged in a lightweight portable box. Explore more at: http://igg.me/at/evive