Attention Makers
CATEGORY: SUSTAINABILITY
low cost solar panel
MAKERS: PUNITH COUNTRY: India
In this project we have built our own solar panel. High cost of solar panel can be reduced by building the solar panels by ourselves.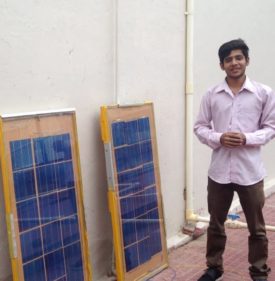 The Purpose
The main purpose is to use renewable energy source. you all know the solar panels are costly, by building the solar panels by our self we can reduce the cost. And these panels can be used in all most every part of the world.
The Technology
we have used the poly-crystalline solar cells to make a panel of 150watt and PWM controller to control the charge from solar panels and store it batteries.
Additional Details
currently this system is installed in my home were the power stored in the batteries are used for lighting's. the solar panels are working properly even in worst weather conditions.