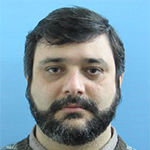 Walter Lages
IEEE Member, IEEE Robotics and Automation Society, IEEE Systems, Man and Cybernetics Society, IEEE Control Systems Society, IEEE Computer Society
Q: What inspired you to become an engineer? Were you always interested in technology? If so, why? If not, when did you become interested and why?
A: It was always obvious that I would become an engineer.
When I was a child, I had an electric model boat that, unfortunately, broke at one point. I remember hearing the person that fixed it saying that he had used a soldering iron – so, my next toy was a soldering iron.
I've always been interested in understanding how electronic devices and equipment worked and how the underlying principles could be used for building new devices and equipment.